Hey, everybody
How are you all?
Sorry for MIA, I was on my mini vacation and a little bit busy so, couldn't post any review as I was supposed too.
I have a special thing to review and swatch it for you guys. As this was my birthday month "August" my husband presented me with a wonderful pre-birthday gift while returning from our vacation.
It's a long time due post. As you might be following on my social media I did an eye makeup look using this Palette. Here is the look if you haven't seen yet and for more eye makeup look don't forget to follow me on Instagram :).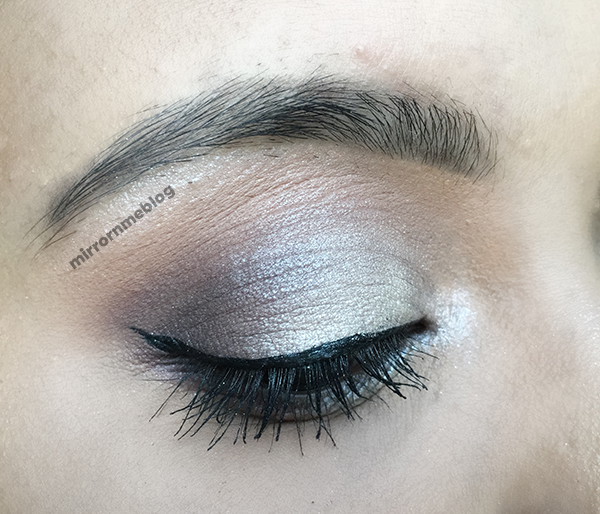 It's none other than the best and my Favourite brand Lancôme Paris. I always want to own something from this brand and finally, I have it now. It's a complete makeup palette so now I have a bit and pieces from their collection.
So this palette has 9 different makeup products. Which is
1. A black Mascara
2. 2 concealers
3. A blush
4. Solid lip color
5. Lip gloss
6. 8 Ombre eye shadow
7. Compact powder
8. Mini eyebrow pencil
9. Lumière pencil in silver
Swatches/ Review
1. A Black Mascara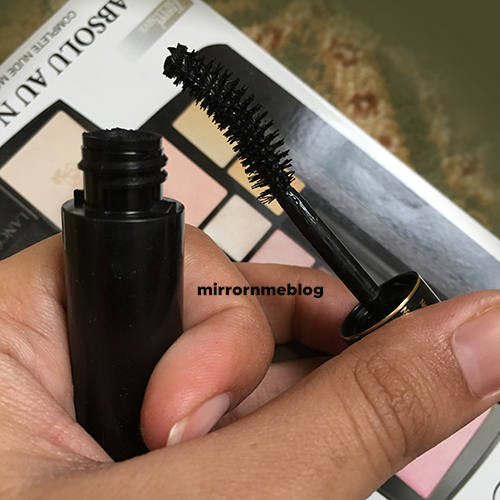 OMG! I really love the mascara, especially the wand. It really gives a beautiful length to my Lashes and it was looking as a wore falsies but those were my own eyelashes. I really like Lancôme mascara.
2. 2 Concealers
Honestly, I tried one of the concealers only just on my lid, it's a cream concealer and luckily it matches my toned also. As a first impression thing, to be honest I didn't like it much but may b after using it more may be I might like as well or not. We will see that later.
So here are the swatches,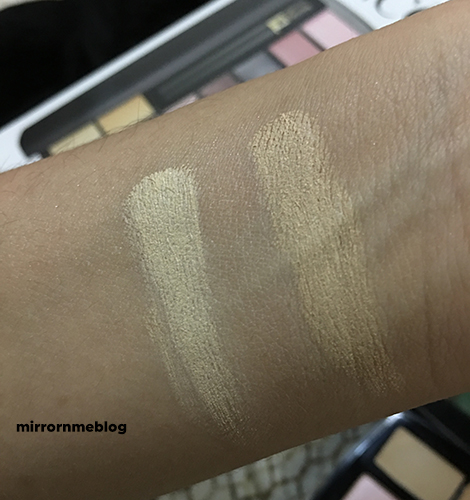 3. A Blush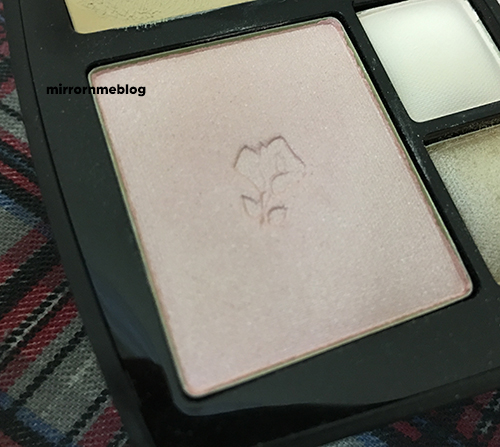 This Blush is the best thing in this entire palette. I love this blush just because it's a blush + highlighter. I can use that as an everyday blush as well. Just because the shine it gave on the cheek was outrageous with a pink touch into it. Best blush ever.
Here is a swatch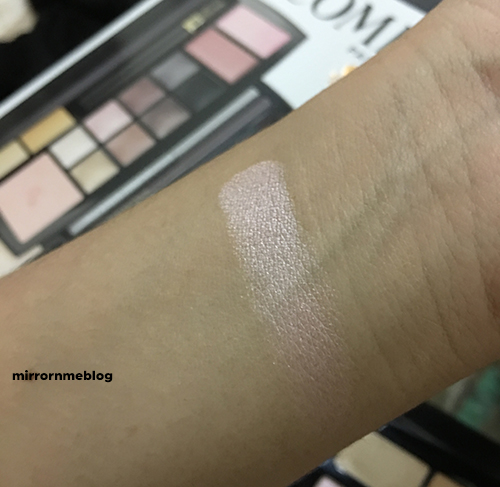 4. Solid Lip Colour.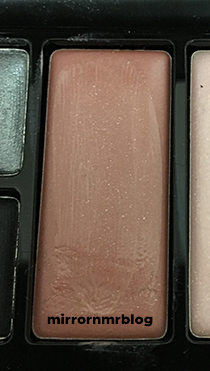 It's a pink nude color with a little bit of glitter. It's a beautiful natural shade and everyday wearable lip shade.
Here is the swatch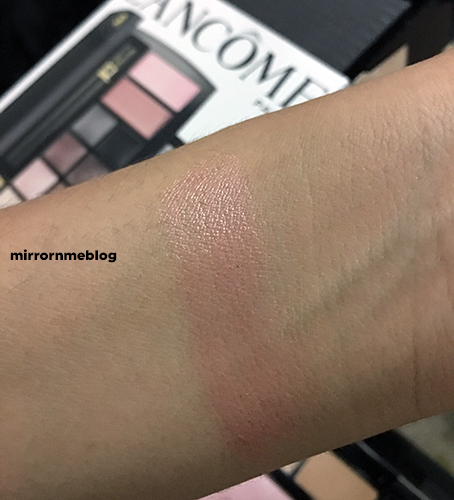 5. Shiny Lip Gloss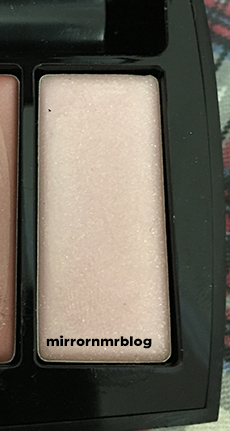 When I first saw this gloss in the palette I was not impressed, but when I give it a try It was quite pretty. This gloss has gold glitter in it which looks gorgeous. sorry was unable to take a shot of this clear glitter gloss, so I don't have the swatch for it.
6. 8 Ombre Powder Eyeshadow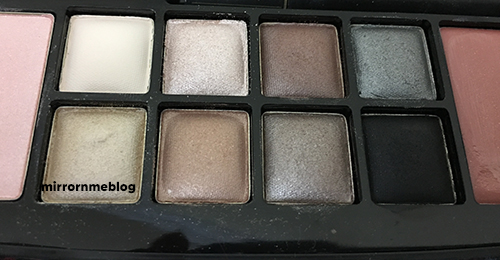 Guys warning, Lancôme's these eyeshadows given in this palette are super pigmented and absolutely outstanding. You guys must get jealous while watching the swatches.
Just one dip of a brush into the Eyeshadow pan and it was a boom glow into my eyes. Love love this Eyeshadow. Definitely going to use some of these as my highlighter for the tip of my nose.
Here are the 8 beautiful swatches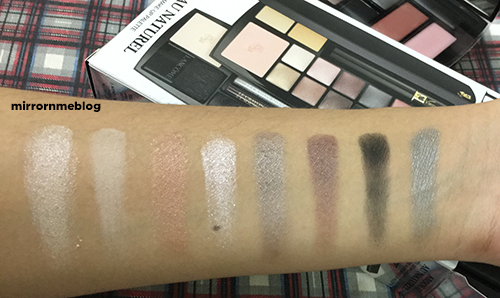 7.Compact Powder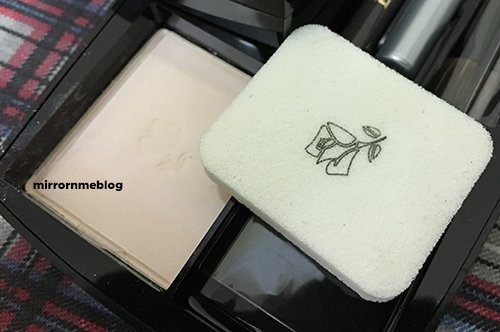 Given compact powder is too light for my skin tone. I haven't tried yet but here is a swatch for you guys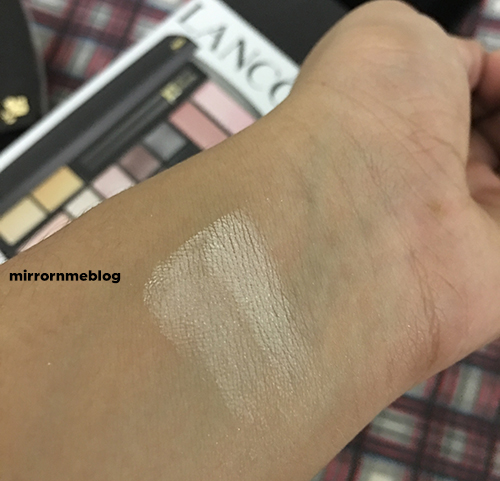 8. Mini Eyebrow Pencil (brown)
As I haven't used this as well yet, but as I was swatching it on my hand it feels so soft and creamy. I really love the texture and soften pencil tip. Looking forward to using this.
Here is a swatch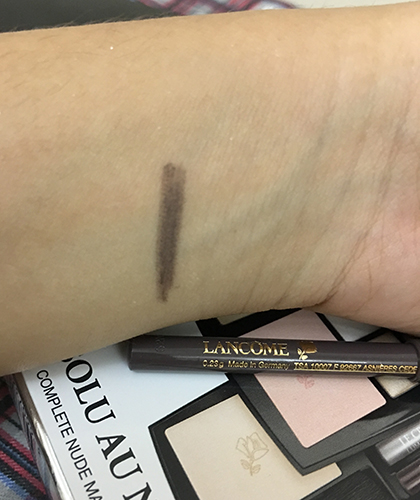 9. Lumière Pencil in Silver
Last but not the least, a Lumiere silver eyeliner pencil. Firstly super soft tip, pigmented and creamy. These three qualities in a pencil liner make the product best. It glides over the skin easily and I just love the color.
Here is the swatch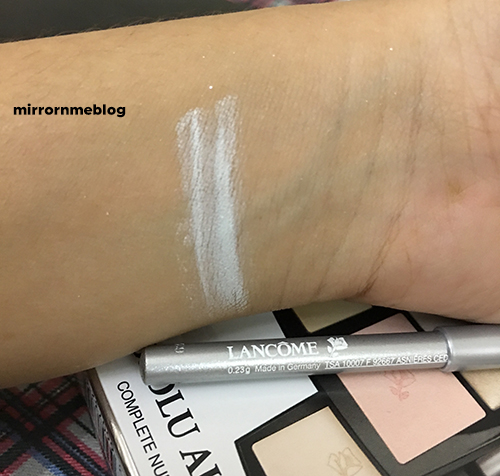 So, guys, that was all the swatches. I am very glad and thankful to my husband for such a wonderful gift. Lancôme is no doubt a highly expensive brand but I think high-end products are worth it. What do you guys think?
And guys if you have read till the end. Then please suggest me any product you want to see a review of, for my "You Suggest I review series". Or anything, in general, you want to read about in future or need any advice you are most welcome to contact me through email or comment me down below.
Don't forget to follow me on
Instagram: mirrornmeblog
Facebook: mirrornmeblog
Twitter: @mirrornmeblog
Contact: [email protected]