"New Year, New feels, New Chances, 
New Dreams."
I was just scrolling down on Pinterest and found this quote. I decided to share it with you guys.
So, how are you all? 
Today, I am sharing my current beauty Favorites. I am a complete drugstore makeup buyer. 
I like the idea of buying a good quality makeup at the reasonable price. 😉
FACE
Primer:
I used to use the Color Studio primer before but, this time I decided to try a new primer with the brand name BOTTANACS.
I don't regret buying Bottanacs oil-free primer. It definitely, fills your pores and makes the skin smooth and flawless. Highly recommended!
You can find this at  Daraz
Foundation:
A while back ago, I accidentally broke my Masarrat Misbah foundation. Since then, I haven't bought any other Foundation. Then, I used Kryolan TV Stick Foundation for a while. But, Kryolan foundation has the heavy coverage.
So now finally, I bought a Maybelline Fit Me Foundation. I am in shade 220. It has a very natural medium to sheer coverage.
I think whoever uses Maybelline foundation or any of their face product, they get obsessed with it.
Concealer and Face Powder/ Setting Powder:
If you are following for quite long then, you may know Maybelline fit me concealer is my old time favorite concealer. It is my no.1 favorite concealer.
As for the face powder, my current favorite right now is Masarrat Misbah's silk face powder. It sets the foundation beautifully under my eyes
Bronzer, Blush On, and Highlighter:
Won't say much about blush on because I am obsessed with the blush on :p. And my current favorites are Massrat Misbah's in Satin Apricot and Color Show's blush on in Fresh Coral and Peachy Sweetie.
I own only one Bronzer which is MUA Makeup up academy's Mosaic Bronzer. I love the amount of warmth it gives to my face.
For highlighter, I have two current favorites. One is The Balm's The Manizer Sister (this is the dupe, I ordered it from AliExpress but, it has gorgeous pigmentation) and another one is Makeup Obsession's highlighter in Pearl.
*could not click my Makeup Obsession highlighter picture because I left at my mum's place. 🙁
EYES
Eyebrow Pencil: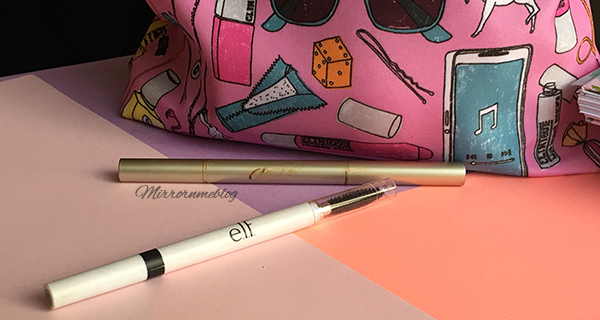 If you have light eyebrows like mine then, you definitely, need an eyebrow pencil to fill it in. Currently, I am using two.
I use ELF eyebrow pencil for casual, natural look and another one is from AliExpress which I use when I need dark eyebrows.
EyeLiner and Mascara:
This mascara isn't my current Favorite it's my all-time favorite product and brand. I had never liked any mascara for so long. Maybelline has a one of the best mascara at drugstores. 
For a winged eyeliner, I like to use fined tip eyeliner. Jesse's Girl is definitely, a precise eyeliner. 
Moving on, to my other current favorite none other than eyeshadow palettes.
Eyeshadow Palettes:
Follow me on Instagram right now, if aren't already.
If you follow me there, you people may know how much I love Eye makeup. Which palette is my obsession these days.
Yes! It's Morphe 39A "Dare to Create" palette, I am obsessed with this palette. Other than this palette my current favorite is Morphe 35O and Smashbox Eyes palette.
LIPS
Lipstick:
Last but not the least is Lipsticks. When it comes to lipstick, I am very particular about it because according to me all lip color doesn't suit me and my skin tone.
I always go for nude and lighter shades. My current favorite and everyday Lip colors are Cami and Brink from Colourpop.
So, that was all. What are your current beauty favorites? And what is worth trying it?
Let me know too so I can try myself.
Comment yes! If you like me to post my winter foundation routine.
Until next time take care :).