Hello everyone! I hope you all are doing well and staying at home.
As Eid is around the corner here are few outfits I got for myself. I hope it may help you finding yours if you haven't found one yet.
Eid Outfit Inspo
I hope everyone has done their eid shopping. I did my eid shopping before Ramada. And I think eid shop before Ramadan is always a good idea. Especially during covid avoiding crowded areas are my first priority.
In this post I'll be sharing what I got for myself (a clothing haul). Secondly I'll be talking about how I stay focused while shopping.
Few tips for how to stay focus while shopping
I always go for a simple outfit, with a little bit of embroidery or work and a breathable material. So, While choosing any outfit whether it is a ready to wear outfit or unstitched I keep a few things in my mind. So here are a few tips which help me to stay focus and shop within my budget.
Firstly I do a little bit of research beforehand. Before going to any brand store I look for their collection on websites. This saves me a lot of time and energy. It's an amazing hack so do try this before going shopping.
Clothing with a unique stitching such as some pattern/ lacing on sleeve or daman are always my first pick.
Broad neckline style is always my pick rather than deep neck style. I think a broad neckline looks more flattering.
So, these were mine few tips but I would love to know how you shop? What are the preferences you search for while looking for an outfit?
I have 2 outfits to share with you all, which I bought from Bonanza Satrangi. So, let's get started 🙂
Eid Clothing Haul
-The Blue 3 Piece Outfit-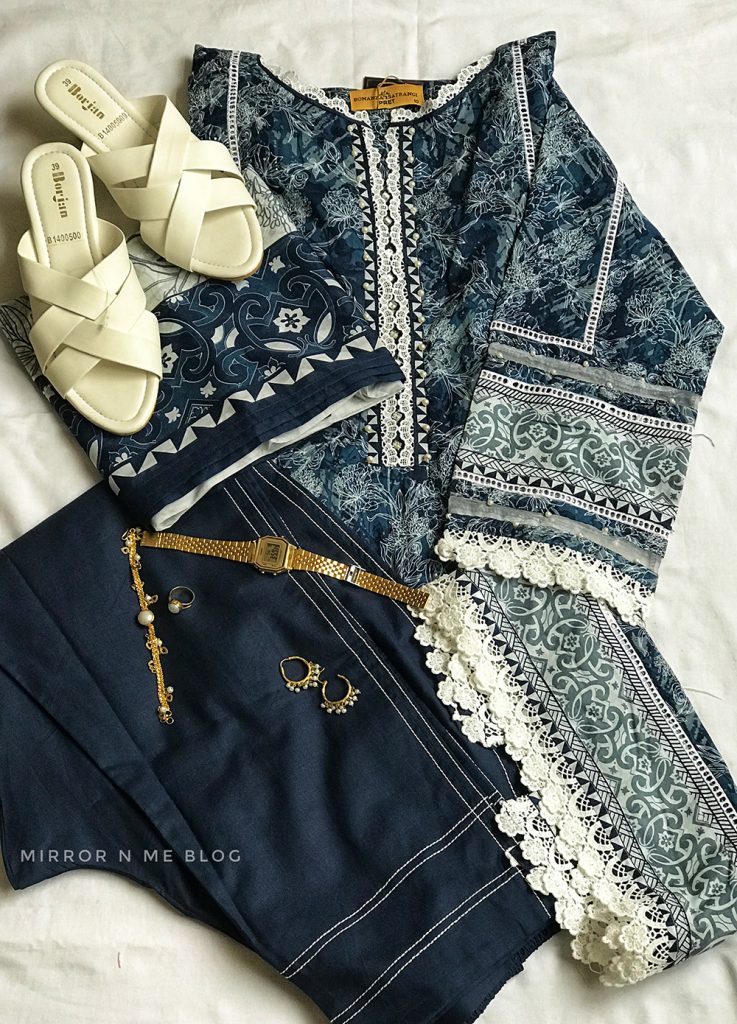 First dress is this beautiful blue three piece suit and the material is lawn. Moti and lace detailing on sleeve and neckline gives a semi formal look and elegant touch to it.
Show stoppers are these trousers. Running stitch detailing on the trouser is very stylish. Here is the link to the dress and if you are wondering about the size, then I am size 10 (medium).
I will be styling this dress with some pearl jewelry and white footwear.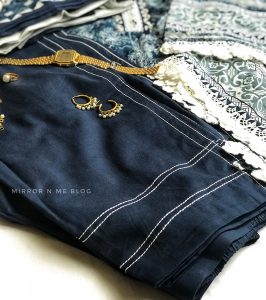 -Green Outfit-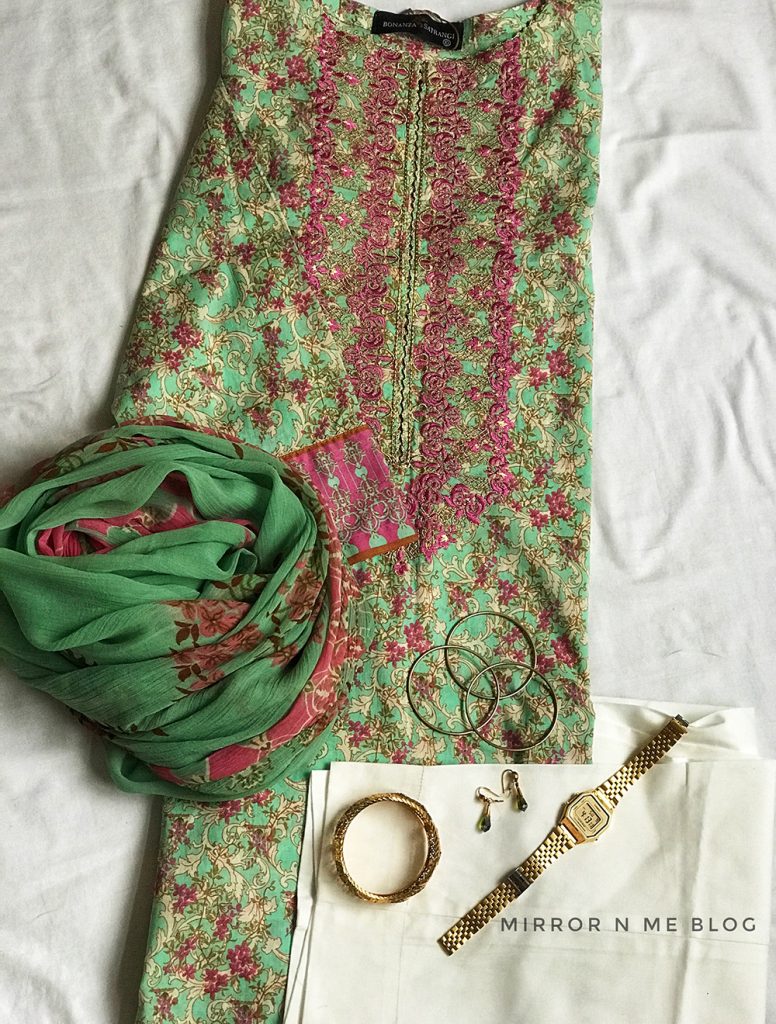 It's a beautiful green suit with pink embroidery and golden trim. Dupatta is printed chiffon. Love love the neckline. I got this two piece set but on their website I can find only kurta which is also on sale. So if you are interested then do check out. Click here for the kurta.
As this was only a shirt and dupatta set I will pair this with off white trousers which I bought from a local store near my house.
Just to complete this look I will be styling this outfit with gold jewelry with a hint of green.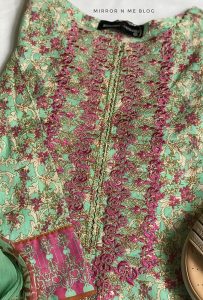 I hope you had a great time reading this piece of blog. Although it does not have any informative content but I hope 🤞🏼 you enjoyed reading about what I got for myself this eid.
A very happy Eid Mubarak to you all.